Who says you can't dress like your kids? When it comes to staying comfortable around your house in the Winter, lounging around in a full size adult onesie is the perfect solution.
You could also just be looking for a fun Halloween costume. When it comes to finding the best onesies, we look for ones that are comfortable, stylish, and unique.
So without further ado here are the best onesies for adults.
Top 10 Best Onesies for Adult Woman:
WOWcosplay Pikachu Onesie Kigurumi Pajamas Unisex Adult Cosplay Costume Animal:

Our Take: Get a size bigger than you normally would. You do not want it to be too tight. It is super cute, super soft, and super warm. I just wish that it had a zipper instead of buttons, but the price is great. I love it!!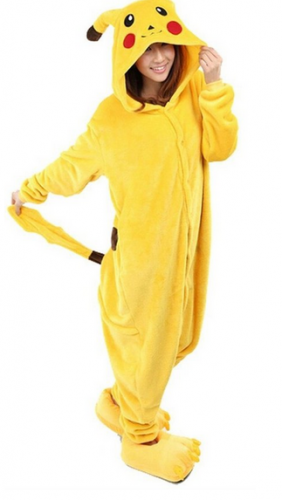 ---
2.   Del Rossa Women's Fleece Hooded Footed One Piece Onsie Pajamas:
Our Take: Very cute and comfortable onesie. Great for sleeping in on the cold winter nights. It is very plush and very warm. Love how it fits because it has an elastic waistband.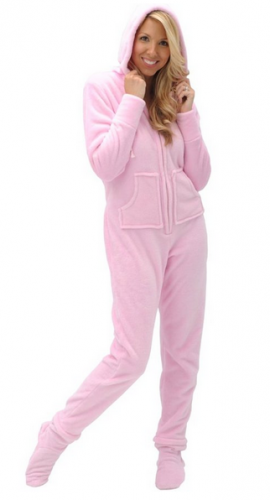 ---
3.   Gray Varsity Hooded Onsie Footed Fleece Pajamas for Women:
Our Take: Great gift for a college student. My cousin calls it the "Hoodie Footie." It not only looks fashionable, but is very comfortable. I like that the footies are removable and there is a cutout around the hands area to keep your fingers warm too. This is a perfect outfit for lounging around the dorm!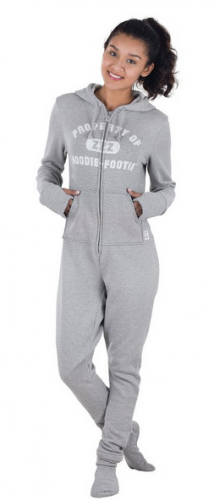 ---
4.   Forever Lazy Unisex Footed Adult Onesie:
Our Take: The perfect onesie for camping. If you are into hunting and the outdoors, what better than to sleep in a camo onsie? This one is pink camo, but who are you really hiding from. It is super comfortable to wear at night around the campfire wile camping. There is also a concealed rear zipper for when nature calls.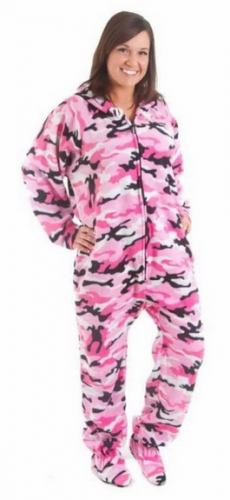 ---
5.   Footed Pajamas Tiger Stripes Adult Hoodie One Piece:
Our Take: This footed pajama is purrrfect. Who does't think woman look good in tiger print? I really like the quality of material on this one and the front zipper. The only thing to watch out for would be the sizing. Most of the onesies you buy you should get a size up, but with this one you should probably get a size down because they run big.

---
6.   Hello Kitty Women's Fair Isle-Print Footed Jumpsuit:
Our Take: Hello Kitty is still super popular. Why not wear this comfortable footed onesie pajama to bed. I really like the style of this one and it also comes in pink, but it is not nearly as warm as some of the other onesies on this list. This is more of just a cute looking pair of pajamas.

---
7.   Funzee Adult Onesie Pjs Footed Pajamas Playsuit Jumpsuit:
Our Take: This colorful footed pajama will make you stand out in any crowd. For some reason it reminds me of Dr. Seuss and for that reason I love it. It is loose fitting all around, but is ribbed at the ankles and wrists for comfort. I love the hood with drawstrings and the pockets are very convenient.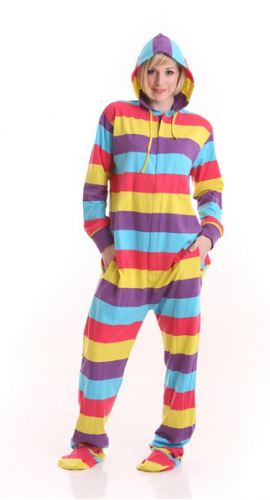 ---
8.  SpongeBob SquarePants Unisex Adult's Fleece Onesie Footed Pajama:
Our Take: We love SpongeBob here and this onesie is more for Halloween than anything. You could also use it for relaxing in around the house or sleeping in at night, but my bet is you want to a Sponge Bob Square Pants costume for Halloween.

---
9.   Totally Pink Women's Warm and Cozy Plush Onesie Pajama:
Our Take: They make a lot of different styles that we love. You can check out or full review here. I really love the Leopard and the Zebra version. These ones look great but are a bit inconvenient when natural calls, but that can be the case with all onesies.

---
10.   Engerla Women's Halloween Cat Unisex Adult Anime Costumes Home Wear Kigurumi Pajamas Cosplay:
Our Take: These are marketed towards Halloween costumes and Cosplay, but I think they are great to wear around the house and to bed too. If you are a cat lover, you will love this Cheshire Cat onesie. The quality is great and the price is not that expensive.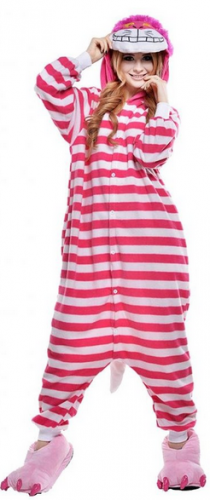 ---
---
---
Top 10 best onesies for adult men
OK now you have seen a taste of the woman's adult onesies and costumes, lets check out some of the best onesies for men. Below you will find my top 10 list of the best onesies for adult males. Most of the items on this list are not going to be used the same way woman use them. I don't know many adult men who lay around their house in a onesie.
Halloween is a different story though. These adult onesies are going to be use primarily as costumes is my guess. Let us know in the comments below though. Do you or someone you know (that is an adult male) where onesies to bed and lounge around the house in one?
 Lazy One Men's Bear Cheeks Flapjacks Union Suit:


Our Take: Perfect pajamas for the whole family to wear on Christmas and to take one of those awkward family photos. I really like how comfortable these are and you can sleep in them any night. I really like the bear cheeks flap that allows you to go to the bathroom with ease. Just undo the 3 buttons and the flap drops down.  Isn't it fun having your whole family match?



---
2.   Forever Lazy Unisex Footed Adult Onesie Men's Green Camouflage:
Our Take: The outfit every hunter needs. This is great for camping. Not only is it super comfortable but it fits the part of living the outdoors lifestyle.It has a zipper on the front and back, so whenever natural calls you will be ready and not fumbling around trying to get the thing off. Overall great design and style. Forever Lazy has lots of Adult Onesies to  choose from if camo is not your thing. They make plain colors as well.

---
3.   Duofold Men's Mid Weight Double Layer Thermal Union Suit:
Our Take: This pajama set should be on every mans' Christmas list this year. This onesie features dual layer soft cotton and wool fabric that provides a thermal barrier from the cold. These are great for sleeping in during those cold winter nights or perfect for when you are hitting the slopes. I prefer to wear this onesie over long winter underwear when I go snowboarding. Buttons in the front and a flap in the back. Great choice and this is my Number 1 recommendation!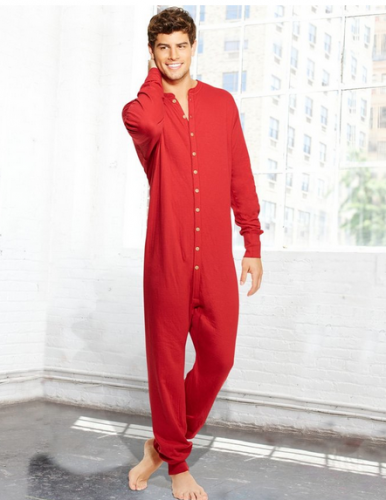 ---
4.   Batman/BatGirl Hooded Fleece One Piece Footie Pajama with Cape for men:
Our Take: There is a Batman fan in all of us. Who doesn't love Batman? Well now you can be him for an adult Halloween costume, or just lounge around the house in the awesome suit and cape. My son loves when I wear my Batman cape and he quickly puts on his too. I really should get him a Robbin onesie so he can be my little sidekick.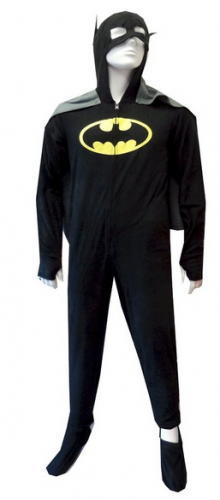 ---
5.   Del Rossa Men's Fleece Hooded Footed One Piece Onsie Pajamas:
Our Take:  I really like the blue and green plaid. It looks like classic men's pajamas and is above all very comfortable material. It is polar microfiber fleece, which is soft and lightweight all while keeping you warm. I like that it has a hoodie, front pockets, and removable booties. If you get cold these will do the trick to warm you up fast!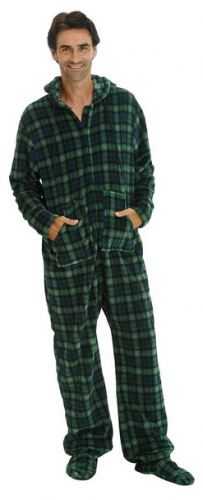 ---
6.   American Flag Jumpsuit – Comfy USA Clothing Item by Tipsy Elves:
Our Take: Tipsy Elves makes some really fun and unique clothing. They were featured on Shark Tank and that is how they grew so big. However, there stuff is expensive, but it is quality material.  This American Flag Onesie is perfect for the Fourth of July. You can wear this out while you are up at your cabin and show off your patriotism. They don't make a male and female version. It is Unisex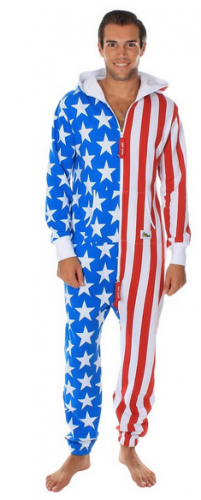 ---
7. Footed Pajamas Baby Blue Adult Fleece:
Our Take: If you want to look just like an oversize baby, this is the footed pajama for you. Not only can you match your new born baby, but you can be comfortable doing it. This baby blue onesie looks great and is very comfy. You can use it for bedtime pajamas or as a Halloween costume where you dress as a baby.

---
8.   Star Wars Men's Vader Jumpsuit Sweatshirt:
Our Take: 2 words Star Wars! This Darth Vader Onesis is not only a great Halloween costume, but it is just plain fun to wear around the house. You can pretend that you are king of the universe. There are a ton of other characters available like the storm troopers, c3po, jedi rebel and more. The print is excellent the the quality of material is great. It does have 2 zippers.One that opens up and one that opens down. Not sure why you would need 2, other than quick access for the bathroom…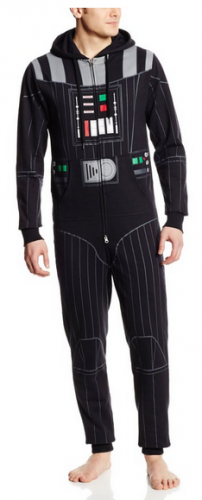 ---
9. Underwraps Men's Astronaut onesie in orange or white:
Our Take: They make this in Orange or White. Again this is another great super easy Halloween costume or you could use them as pajamas. It does have straps so I am not sure that it will be that comfortable to sleep in. For this one, I would say it is a great Halloween costume only. There is also additional accessories you can buy like a Aeromax Astronaut Helmet, or Astronaut gloves, and boots.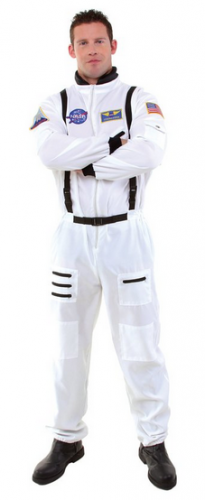 ---
10.   Footed Pajamas Teddy Bear Adult Hoodie One Piece:
Our Take: Who doesn't want to be a giant teddy bear to someone they love. Well now you really can. Just put on this teddy bear onesie and instantly become a giant teddy bear. You Wife or girlfriend will love you forever. You will feel so soft in their arms and you both can get super cozy together. I like that it has a hood and pockets. I however do not like that you cant remove the footies. It really is not that expensive and is a fun gift for that special someone who you want to be your teddy bear.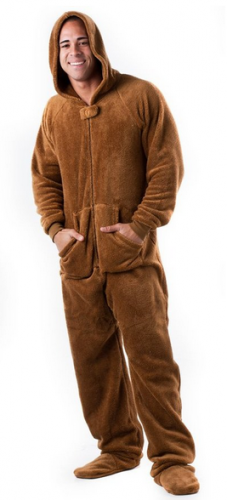 ---
So there you have it. My list of the top 10 best onesies for adult men and  woman. These are in no particular order based on rank. They are just the best onesies I have seen based on what is the best selling at Amazon. Make sure you click on the picture to get the latest pricing and reviews. If you know of some that should be on the list feel free to contact us or post a comment below.
I hope you enjoyed looking at these as much as I did reviewing them.