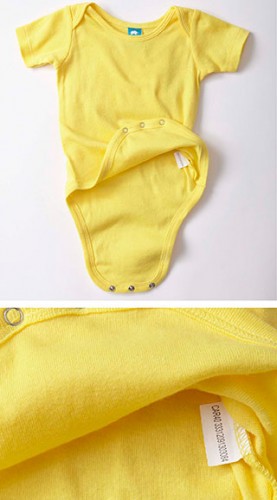 All I can say is wow. 479,000 onesies are to be recalled by Precious Cargo. Parents should stop using these immediately. It has been reported that the snaps of the onesies can become detached and pose a chocking hazard on infants.
The affected onesies are available in 13 colors and sizes from 6M, 12M, 18M. They will have a label on the inside that have a tracking number. Please double check all of your onesies because some may have been private labeled and not specifically have the Precious Cargo logo on them. If you happen to have a product that fits the description below, please fill out the online form to get a refund.
These affected onesies were sold at Promotional product distributors, screen printers, embroiderers and gift shops from July 2014 through July 2015 for about $4.
Luckily there have been no reported injuries or accidents to date.
PRODUCT RECALLS & ISSUES
Precious Cargo® Infant One-Piece (CAR40)
Hazard: Snaps on one-piece may detach from garment, posing a potential choking hazard to young children.
Remedy: Refund. Consumers should immediately stop using the garment and contact Precious Cargo on directions how to return for a full refund.
Incidents/Injuries: No incidents or injuries have been reported.
Description: Precious Cargo® Infant One-Piece (style number CAR40) was available in three sizes (sizes 6M, 12M, 18M) and 13 colors (Athletic Heather, Aquatic Blue, Candy Pink, Clover Green, Jet Black, Lime, Navy, Purple, Red, Royal, Sangria, White, and Yellow). Product is typically embellished by application of a corporate or community organization logo prior to sale or distribution to consumers. A tracking label sewn into the inside left seam lists the style number and tracking numbers:
CAR40

33312091301084

CAR40

33312091302084

CAR40

33312091303084

CAR40

3335131439084

CAR40

3336121456084

CAR40

33371414201084

CAR40

33391215451084

CAR40

33310091441084

CAR40

333101414137084

CAR40

33311131488084

CAR40

33312121406084

CAR40

3331141506084

CAR40

3333131506084
Dates Sold: Sold by numerous promotional products distributors, screen printers, embroiderers and other retailers around the U.S. beginning in July 2014.
Consumer Contact:
For information, contact Precious Cargo at 1-888-770-7018 from 7:00 a.m. to 6:00 p.m. Central Time Monday through Friday.
Click here to register on-line for a refund.